INTRODUCING A NEW UNIVERSAL PRAYER CALLED
"LITANY OF LIGHT ORATION BEADS"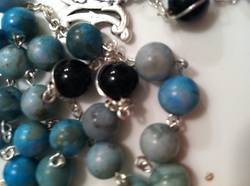 Each set of beads are hand made by me and energetically cleared and downloaded with ancient healing codes. Each decade is in Honor of a Goddess honored throughout all cultures.
Now is the time of gathering.. and having our voices be heard in UNITY. These prayers were created through my guides in order to ANCHOR THE DIVINE MOTHER BACK... INTO THE HEARTS OF ALL.
These beads can be "Made to Order".. I use minerals, quartz and swarvoski type crystals or wood.
Every Tuesday we are gathering to chant these prayers for the world and our own personal requests at the hour of 7:15 PM E.S.T.. "PLEASE JOIN US TO SAVE OUR WORLD"

We Pray For the Following:
That positions in all the governments of the world will be held by light workers and for their "protection". We ask that truths are revealed and if any mind control through "Media" over the populace exists it will be BROKEN NOW and we WAKE UP.


We pray for the BEES .. for their healing and for the environment and laws to be passed to PROTECT AND HEAL the earth and we all become more earth "conscious"


We pray for a cure for the Ebola Virus and the protection of all scientists and doctors in this field. We ask for healings esp. in the young and elderly to take place and that our immune systems become strong.


This is when you put your PERSONAL REQUESTS into the Litany of Light Circle...
PLS CLICK ON THE LITANY OF LIGHT PRAYER LINK FOR INSTRUCTIONS*


---